MSD Animal Health roept op tot deelname aan World Rabies Day Awards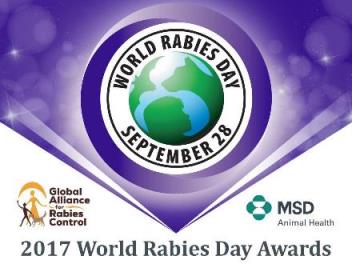 MADISON, NJ, June 2, 2017 – For the second consecutive year, Merck Animal Health (known as MSD Animal Health outside the United States and Canada) will be recognizing individuals and organizations who work to prevent rabies in their communities through the World Rabies Day Awards. These awards represent a partnership between Merck Animal Health and the Global Alliance for Rabies Control (GARC), a nonprofit group dedicated to preventing human deaths from rabies and relieving the burden of rabies in other animal populations. Most importantly, these awards will help raise global awareness for rabies champions in an effort to strengthen their support on an international level. .
"Rabies is responsible for an estimated 59,000 deaths each year, many are children under the age of 15 and almost all of those deaths from dog bites," states Alasdair King, director, Intergovernmental Veterinary Health, Merck Animal Health. "We are proud to partner with GARC to recognize those who are working tirelessly to put an end to the spread of this disease, making communities safer for all."
This year, eight awards will be presented to recipients around the world who are actively contributing to the prevention and control of rabies and are demonstrating an impact in their community.
Winners will receive US$1,200 (or resources of equal value). Nominations can be submitted until August 7th, 2017 at https://rabiesalliance.org/world-rabies-day/awards. Winners will be announced on September 28th, World Rabies Day.
To learn more about the Global Alliance for Rabies Control, visit https://rabiesalliance.org/.
Over MSD Animal Health
Het MSD van vandaag is een bedrijf dat wereldwijd de toon zet op het gebied van de gezondheidszorg en dat zich inspant om de wereld beter te laten worden. MSD Animal Health, bekend als Merck Animal Health in de Verenigde Staten en Canada, is de mondiale bedrijfsunit voor diergeneeskunde van MSD. Dankzij haar inzet voor de Science of Healthier Animals™, biedt MSD Animal Health dierenartsen, veehouders, eigenaars van huisdieren en overheden een vrijwel ongeëvenaard assortiment van diergeneeskundige farmaceutische producten, vaccins en oplossingen en diensten voor gezondheidsbeheer. MSD Animal Health zet zich in voor de bescherming en verbetering van de gezondheid, het welzijn en de prestaties van dieren. Het bedrijf investeert veel in dynamische en uitgebreide R&D-voorzieningen en een moderne, wereldomvattende leveringsketen. MSD Animal Health is aanwezig in meer dan 50 landen en de producten van het bedrijf zijn verkrijgbaar in circa 150 markten. Ga voor meer informatie naar www.msd-animal-health.be.